Even with the most engaging subject line, or beautifully designed activity invitation, a quick distraction can cause a member of your community to forget to complete your activity. That's where the activity reminder come in!
Reminders can be sent according to Participation Status filters. For example:
Members that started the activity, but did not complete it
Members that were invited but didn't start
We recommend including both of these filters!
Most completes to your activities will come in the first 1-2 days after sending out the initial invitation. So, what boost can be expected from sending a reminder? Compared to the number of responses typically garnered from an original invitation, the power of reminders is limited. It is estimated that a community member is five times more likely to respond to your initial invite than to the 1st reminder, and their likelihood to respond to second or third reminders continues to diminish. Due to the diminishing returns, you can fairly accurately estimate your total completion rate after your first reminder is launched.
Here is a visual representation of the boost you might expect from sending reminders. Keep in mind, the performance of each reminder will vary community to community.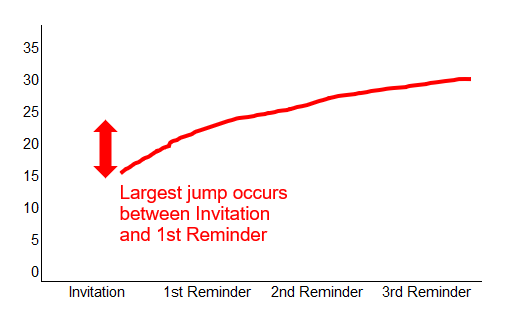 When should a reminder be scheduled for?
We recommend scheduling a reminder 3-4 days after the initial invitation. If you are unsure whether to use a secondary reminder, consider the balance of the experience for your members:
When your next scheduled activity will launch
What other communications you might be sending in that time period (ex: newsletters, articles, other touch points from your business, etc.).
Other Tips and Resources:
Subject Line: Test various subject lines similar to how you would for an initial invite. Some communities will respond better to a sense of urgency (ex: Only 3 days left to tell us your thoughts!), while others might have a higher click rate if the subject line is more casual (ex: friendly reminder: We've love your feedback!)

Here is an interesting article showcasing some strong subject lines that you can leverage for your next reminder emails

Timing: It is recommended to use what you know about your customers, either by testing on your insight community or by speaking with your Marketing department in terms of what time is most effective for activity invitations and reminders
Learn how to send a reminder here
Target your reminders to specific audiences
Open Rate Tracking for Invitations & Reminders